Technoline WT-7400 Wall Clock
The stylish Technoline WT-7400 analogue bedroom wall clock has a top quality quartz mechanism as you would expect, but its trump card is its automatic backlight which sets it apart from the rest. The built-in light level sensor automatically detects when it becomes dark and turns the backlight on during the hours of darkness and then turns the backlight off again when daylight comes. One of our favourite clocks.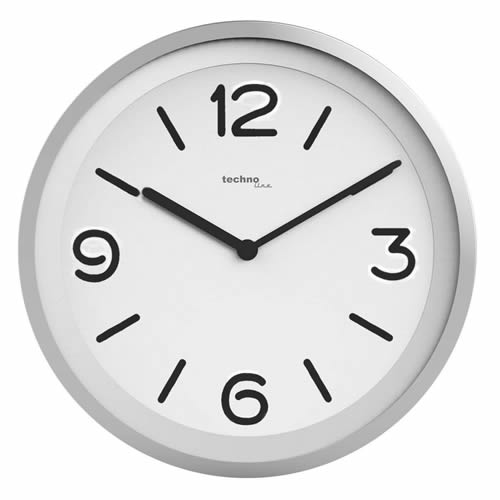 Perfect as a bedroom wall clock with its comforting delicate yellowish backlight for all night visibility. This lovely clock has two backlight level settings (depending on the light level you prefer) and the backlight also has an option where the backlight can be switched off completely.

The clock, which is 25cm in diamater, has a modern design with clear black numerals on
an unusual but very attractive sheer white fabric face
which combined with a stylish brushed aluminium silver surround give the clock a quality look and feel and
customers often comment that the clock looks even nicer on the wall than it does in the photos
.
All orders placed before 5pm mon-fri are dispatched on the same day.
If you have any questions about the
Technoline WT-7400 Wall Clock
please call on
020 8989 1087
020 8989 1087
(mon-fri 10am - 5pm) and we'll be very happy to help