Technoline WS-8118 Wall Clock
The Technoline WS-8118 LCD digital wall clock with radio controlled time for consistently accurate second perfect time. An easy to read screen with very clear date and time plus indoor and outdoor temperature and moon phase display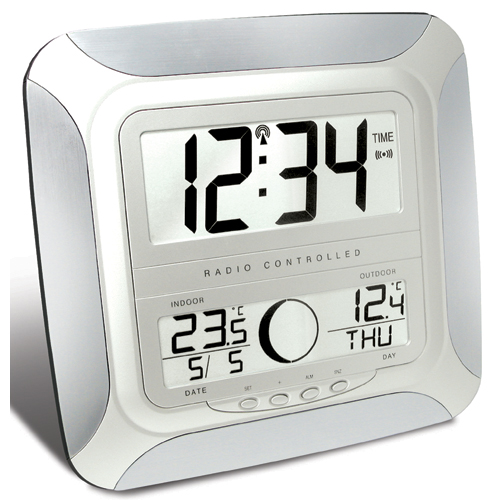 The Technoline WS-8118 utilises the powerful DCF77 automatic radio control timing signal which maintains the accuracy of the clock and offers excellent coverage throughout the UK including the Highlands and Islands, the Channel Isles, the Isle of Man and Northern Ireland.
Once set to the UK time zone the clock checks and updates the accuracy of the time each and every night and also automatically follows British Summer Time changes when the clocks go forward (and back)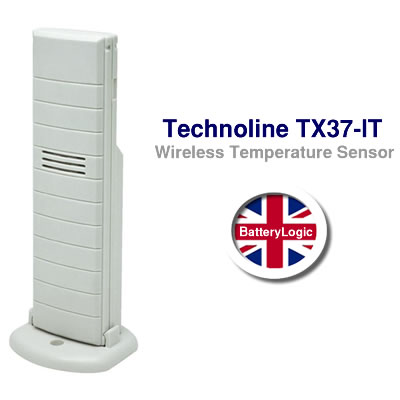 The Technoline WS-8118 includes a wireless temperature sensor for measuring the outside temperature. Please note that the wireless temperature sensor (TX37-IT) is not waterproof and when placed outside must be located in a dry sheltered location away from direct sunlight and rain.

DCF-77 Radio controlled clock with manual setting option
12 or 24 hour display
Time shown in hours and minutes
Date and Month
Weekday display (4 languages to choose from: English, French, German and Spanish)
Display 12 Moon phases throughout the year
+12/-12 Time zone setting
ºC or ºF temperature selectable
Indoor temperature
Outdoor temperature (wireless TX37-IT temperature sensor included)
Wall mount or freestanding
Dimensions : 25 x 24 cm
Powered by 2 x AA (LCD clock) and 2 x AA (outdoor temperature sensor). Batteries not included
All orders placed before 5pm mon-fri are dispatched on the same day.
If you have any questions about the
Technoline WS-8118 Wall Clock
please call on
020 8989 1087
020 8989 1087
(mon-fri 10am - 5pm) and we'll be very happy to help