Mobile Alerts MA10660 Anemometer
The Mobile-Alerts MA 10660 Wind Speed and Direction Meter is one of the optional wireless sensors available for use with the Mobile Alerts remote monitoring Gateway system (MA-10000) ** which is sold separately and required for this sensor to operate **
The Mobile Alerts MA10660 wind speed anemometer, when used in conjunction with the Mobile Alerts gateway (sold separately), makes it possible to remotely monitor and record wind speed and directional information and view live and historical data directly on your smartphone or tablet. The wireless MA10660 wind speed anemometer is battery operated (the rechargeable battery is recharged from the built-in solar panel) and transfers live wind speed and direction data to the Mobile Alerts cloud server through the Mobile Alerts gateway via the internet.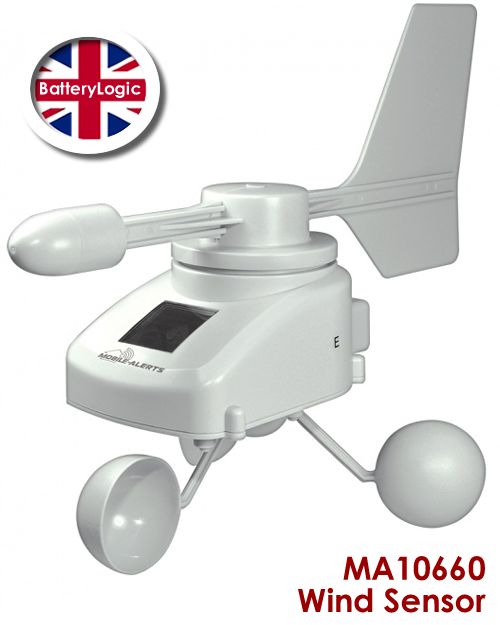 Anemometer Specifications
Power supply : Solar panel
Measuring range (wind and gusts) : 0- 50 m/s / 0- 180 km/h / 0- 112 miles / 0 - 97 knots
Accuracy : 5% +/- 0.5 m/s
Wind direction : 16 directions, 22.5 degree resolution
Transmission range : 100m (open area)
Measuring interval: one rotation of the paddle wheel
In strong winds, a measurement interval of up to 0.02 seconds can be achieved, so that you will never miss a single gust.

The Mobile Alerts app is available for iOS and Android and can be downloaded from the Apple App Store and the Google Play Store, just search 'Mobile Alerts'. You can download the free app before you buy and you can view real wind speed and direction data from a live MA10660 wind speed anemometer so that you have a good look at the system to see what it's all about.
Mobile Alerts MA10660 Anemometer
Mobile Alerts MA10660 Anemometer
All orders placed before 5pm mon-fri are dispatched on the same day. FREE UK delivery.
BatteryLogic are the UK's Technoline Mobile Alerts specialists
, we carry the full range of sensors and are always happy to help. If you have any questions about the
Mobile Alerts MA10660 Anemometer
please call on
020 8989 1087
020 8989 1087
(mon-fri 10am - 5pm) and we'll be very happy to help