Mobile Alerts MA-10300 Temp and Humidity
The Technoline Mobile Alerts MA10300
is a sensor for monitoring dual temperatures (ambient air and cable probe) as well as relative humidity levels, and is one of the optional wireless sensors available for use with the
Mobile Alerts gateway system
** which is sold separately and required for this sensor to operate ** The MA10300 is popular in many applications where dual temperature and humidity monitoring is of interest including chiller cabinets, warm food areas, aquariums and vivariums for axample. The cable temperature sensor which is suitable for use with non-corrosive liquids can be placed away from the main temperature sensor to measure either air or liquid temperature. Also popular in applications where temperature and humidity monitoring is essential such as medical stores, pharmacy etc.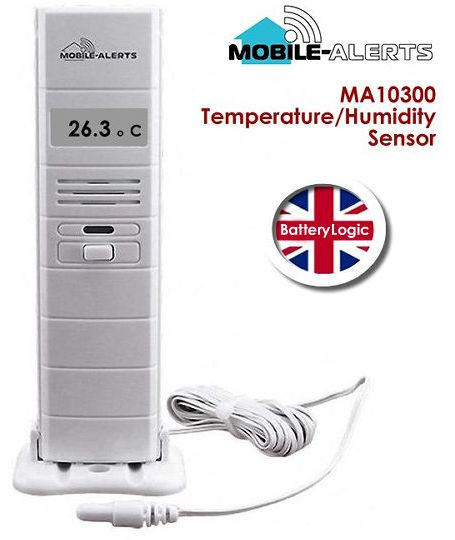 Once setup within the Mobile Alerts system it is then possible to remotely view the temperature and humidity readings generated by the Mobile Alerts MA10300 dual temperature and humidity sensor directly to your smartphone (iOS and Android) wherever you are as long as you have access to the internet .
There is also a small LCD screen on the sensor which displays both the temperature and the humidity. The photo only shows the temperature but the screen display continuosly toggles between showing the temperature and the humidity.
Specifications:
Measuring range temperature: – 39.9°C to + 59.9°C
Resolution: 0.1°C
Accuracy: +/- 1°C
Measuring range humidity: 20% to 99%
Accuracy: +/- 3%
Measuring interval: 7 minutes
Transmission range: 100m (open area)
Dimensions: 128 x 38 x 21mm
Batteries: 2 x AAA (not included)
Cable Length: 150cm
Minimum Software Requirements: iOS 7.0 / Android 3.2
The Mobile Alerts smartphone app displays the current temperature and humidity readings which are updated at seven minute intervals. The app and gateway can monitor upto 50 sensors so adding additional sensors to the system is very straightforward..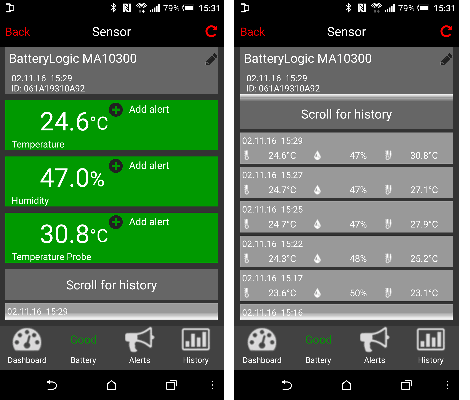 You can set minimum and maximum temperature and humidity levels to trigger automatic alerts directly to your smartphone if the user determined alert levels are reached. It is possible to set individual alerts for both of the temeperature sensors (body and cable) and also the humidty sensor.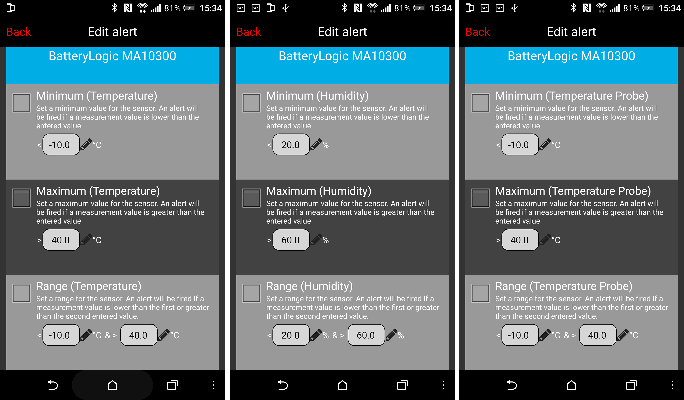 The Mobile Alerts app is available for iOS and Android and can be downloaded from the Apple App Store and the Google Play Store, just search 'Mobile Alerts'. You can download the free app before you buy and you can view real sensor data from a wide range of live sensors so that you have a good look at the system to see what it's all about.

Mobile Alerts MA-10300 Temp and Humidity
If you have any questions about the Mobile Alerts MA-10300 Temp and Humidity please call on
020 8989 1087
020 8989 1087
(mon-fri 10am - 5pm) and we'll be very happy to help