Panasonic BQ-CC65 Battery Charger
The BQ-CC65 is Panasonic's flagship eneloop battery charger and is a sophisticated yet very easy to use intelligent battery charger that will reliably charge all AA and AAA NiMH rechargeable batteries.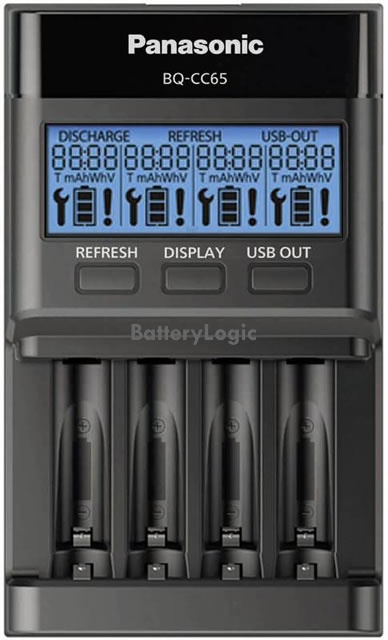 The BQ-CC65 Panasonic battery charger is gentle on your batteries and perfect for use with any good quality AA or AAA rechargeable battery brand including the excellent eneloop batteries which are widely regarded as being the very best of the best. Of course as this charger is manufactured by Panasonic it has been specifically designed with eneloop batteries in mind so an especially perfect match for use with any Panasonic eneloop rechargeable batteries.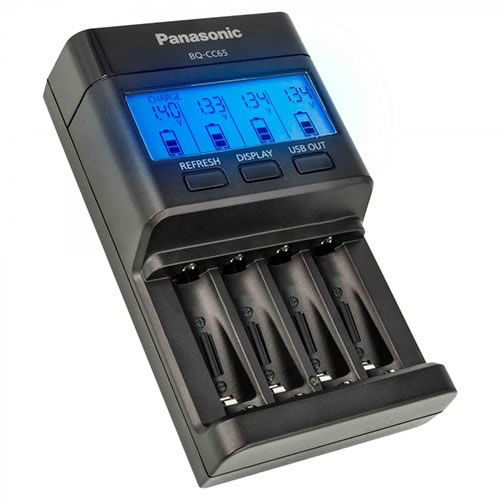 The cleverly designed BQ-CC65 is Panasonic's best battery charger and is independent on a per battery basis and looks after the charge status of each battery individually. What this means is that you can independently charge 1, 2, 3 or 4 batteries perfectly every time.
The BQ-CC65 also has a neat 'Refresh' function which can be useful if you ever want to occasionally give your batteries a full Charge > Discharge > Charge cycle as some users like to do from time to time with batteries that may never get to be fully discharged in normal use.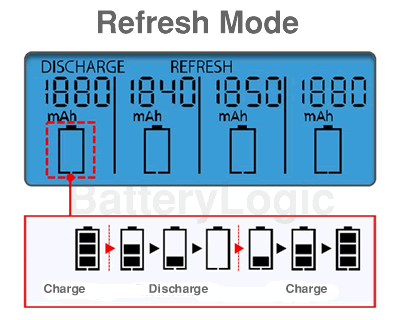 If you are looking for a top quality, no nonsense and thoroughly foolproof charging unit that has a nice clear display and is very easy to use then the Panasonic BQ-CC65 is probably the battery charger for you.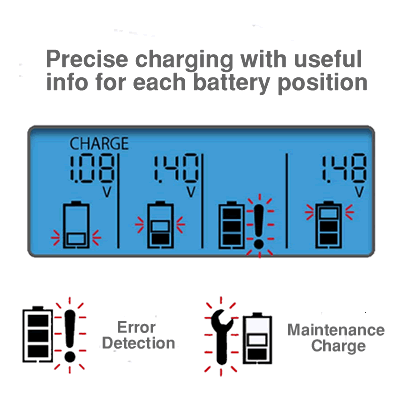 The Panasonic BQ-CC65 battery charger also has a useful USB output which can be used for charging for example a mobile phone or similar device when there are no batteries being charged.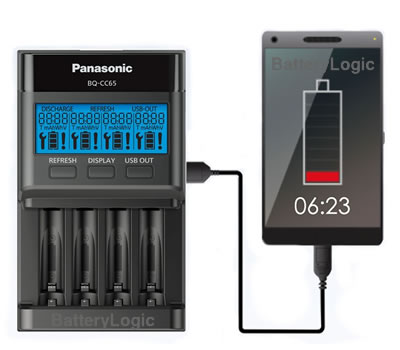 TECHNICAL SPECIFICATIONS
| | |
| --- | --- |
| Input: | AC100-240V 50-60Hz (including UK power lead.) |
| Output: | DC 5 V 1A / USB-A 1 slot |
| Charge Current : | AA 750mA, AAA 250mAh |
| Charge Control: | Smart Charge *This charger has a 'Smart Charge' function which checks the voltage and temperature of batteries automatically whilst charging. Thanks to this Smart Charge function, it enhances both charge time and energy efficiency |
| Indicator: | LCD Display (Battery capacity & Life check & Discharge Mode) |
| Charges: | AA x 1-4 / AAA x 1-4 cells |
| Dimensions: | 150 x 90 x 40 mm |
| Weight: | 210g |
| | |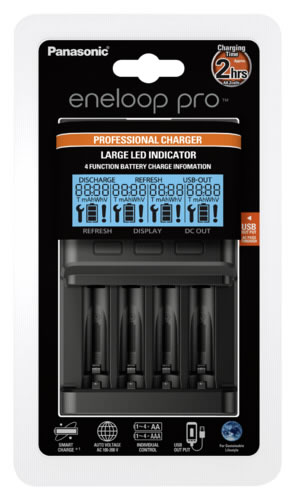 Panasonic BQ-CC65 Battery Charger
Order before 5pm (mon-fri) for same day dispatch via Royal Mail Tracked 24