Mobile Alerts MA10100 Temp Sensor
The Mobile-Alerts MA 10100 Temperature Sensor is one of the optional wireless sensors available for use with the Mobile Alerts remote monitoring Gateway system (MA-10000) ** which is sold separately and required for this sensor to operate **
The wireless MA10100 temperature sensor is battery operated and is perfect for monitoring temperatures remotely. Satisfied customers are successfully using Mobile Alerts temperature sensors in a wide range of applications including, outhouses, greenhouses and remote properties and they are also very often used in commercial chiller rooms, fridges and freezers for regulatory temperature recording.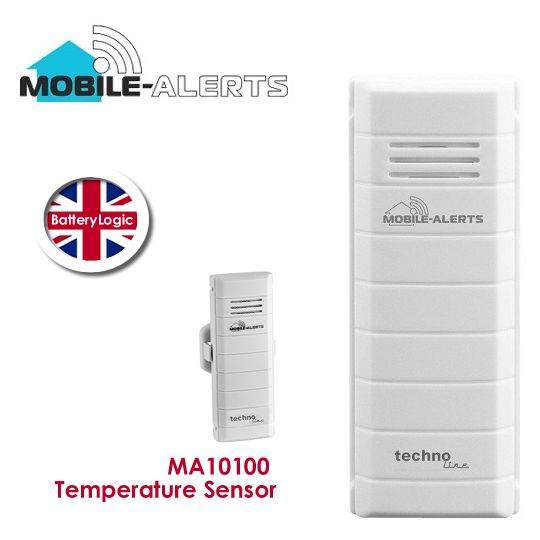 The Mobile Alerts MA10100 temperature sensor, when used in conjunction with the Mobile Alerts gateway (sold separately), makes it possible to remotely monitor and record temperature data and view live and historical data directly on your smartphone or tablet.
In addition to remotely measuring and monitoring temperature levels, which are displayed on your smartphone, it is possible to set alerts for user defined temperature levels, which once reached or exceeded, can automatically 'push' an alert message directly to your smartphone. Alerts can be invaluable if for example you have a freezer that has failed or has a fridge has been left open as the rise in temeperature can be detected and the alerts sent to your smartphone can give you an opportunity to take appropriate action (see the example screens below)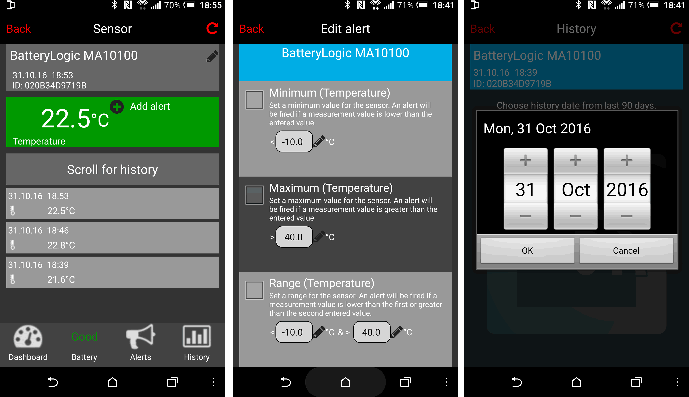 Specifications:
Measuring range temperature: – 29.9°C to + 59.9°C
Accuracy: +/- 1°C
Measuring interval: 7 minutes
Transmission range: 100m (open area)
Batteries: 2 x AAA
Dimensions: 32 x 17 x 87mm

The Mobile Alerts app is available for iOS and Android and can be downloaded from the Apple App Store and the Google Play Store, just search 'Mobile Alerts'. You can download the free app before you buy and you can view real temperature data from a live MA10100 temperature sensor so that you have a good look at the system to see what it's all about.
Mobile Alerts MA10100 Temp Sensor
Mobile Alerts MA10100 Temp Sensor
All orders placed before 5pm mon-fri are dispatched on the same day. FREE UK delivery.
If you have any questions about the
Mobile Alerts MA10100 Temp Sensor
please call on
020 8989 1087
020 8989 1087
(mon-fri 10am - 5pm) and we'll be very happy to help