Mobile Alerts MA10320 Pro Sensor
The Mobile-Alerts Dual Temperature and Humdity Sensor PRO (MA-10320) is one of the optional wireless sensors available for use with the Mobile Alerts remote monitoring Gateway system (
MA10000
) ** which is sold separately and required for this sensor to operate **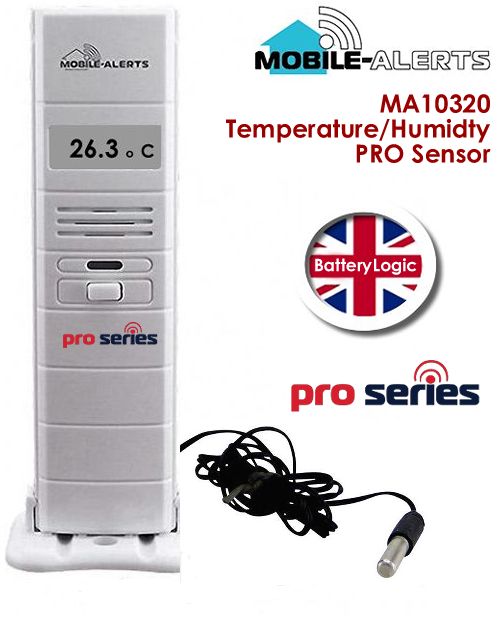 Popular in many applications where dual temperature and humidity monitoring is required. The cable temperature sensor can be placed away from the main temperature sensor to measure either air or liquid temperature.
The Mobile Alerts smartphone app displays the current temperature and humidity readings which are updated at seven minute intervals.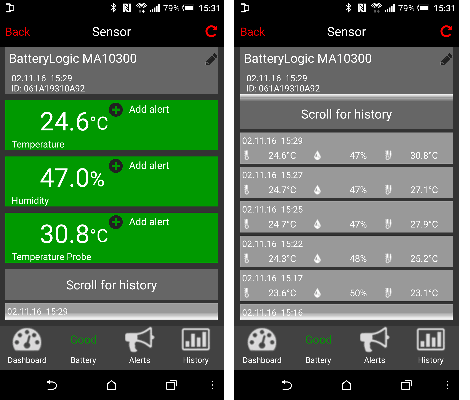 You can set minimum and maximum temperature and humidity levels to trigger automatic alerts directly to your smartphone if the user determined alert levels are reached.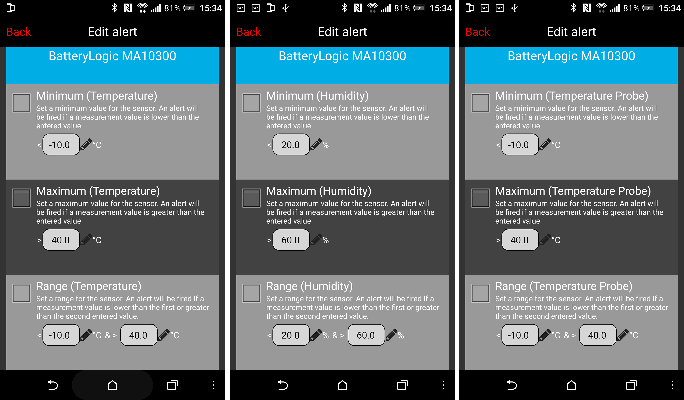 The MA10320 is very similar to the MA10300 sensor but includes the option for data export and includes a very high specification black cable probe sensor for monitoring much higher temperatures of up to 110 °C
The app and gateway can monitor upto 50 sensors so adding additional sensors to the system is very straightforward.
Measuring range temperature: – 39.9°C to + 59.9°C
Accuracy: +/- 1°C
Cable Probe range temperature: –50°C to + 110°C
Accuracy: +/- 0.5°C
Measuring range humidity: 20% to 99%
Accuracy: +/- 5%
Measuring interval: 3.5 minutes
Transmission range: 100m (open area)
Cable length of probe: 1,5m
Batteries: 2 x Micro (LR03, AAA)
The Mobile Alerts app is available for iOS and Android and can be downloaded from the Apple App Store and the Google Play Store, just search 'Mobile Alerts'. You can download the free app before you buy and you can view real sensor data from a wide range of live sensors so that you can have a good look at the system to see what it's all about.
All orders placed before 5pm (mon-fri) are dispatched on the same day via Royal Mail First Class post

Mobile Alerts MA10320 Pro Sensor
If you have any questions about the Mobile Alerts MA10320 Pro Sensor please call on
020 8989 1087
020 8989 1087
(mon-fri 10am - 5pm) and we'll be very happy to help