Technoline WS-9767 Temperature Station
The Technoline WS-9767 temperature station with digital clock clearly displays both the indoor and outdoor temperature via the included wireless temperature sensor . Sleek design with modern piano black surround and a clear no nonsense display.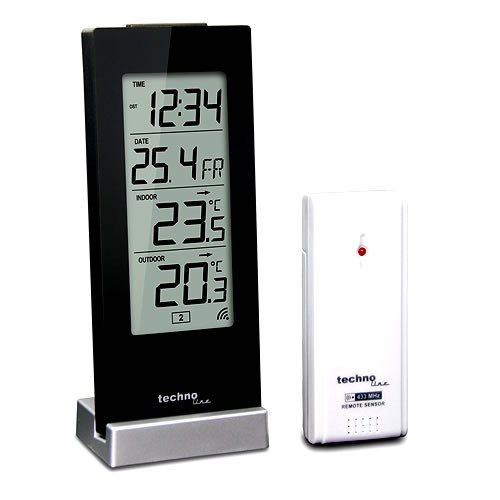 The temperature can be set to display in either Celsius or Fahrenheit and the clock can be set to display the time in either a 12 or 24 hour format.
The indoor display is powered by 2 x AA batteries and the wireless temperature sensor is powered by 2 x AAA batteries. (batteries are not included) Please note that when placed outdoors the wireless temperature sensor should be placed in a dry sheltered location away from direct rain. The indoor display (65 x 165 x 45mm) can be either wall mounted or table standing with the included base stand.
Temperature range:
Indoor : 0 °C (32 °F) to 50 °C (122 °F)
Outdoor : -39.9 °C (-39.8 °F) to 59.9 °C (139.8 °F)
Centigrade or Fahrenheit temperature display
DCF-77 Radio controlled clock for accurate UK time (the clock can display any time zone)
12/24 h time display
Time zone setting (+/- 12 hours)
Date and weekday display (5 languages)
Indoor and outdoor temperature display
MIN/MAX recording
Temperature tendency display
Alarm with snooze function
Low battery indicator
One wireless temperature sensor included (can optionally receive up to three sensors)
Wall mounting or table standing

Technoline WS-9767 Temperature Station
If you have any questions about the Technoline WS-9767 Temperature Station please call on
020 8989 1087
020 8989 1087
(mon-fri 10am - 5pm) and we'll be very happy to help