Mobile Alerts MA10350 Water Detection
The Mobile-Alerts Temperature / Humidity / Water Level Flood sensor (MA-10350)
is one of the optional wireless sensors available for use with the Mobile Alerts
remote monitoring Gateway system
(which is sold separately and is required for this sensor to operate). As well as remote temperature and humidity monitoring, the MA-10350 water detection sensor can be placed in any location where unexpected water would be a problem as it can automatically raise an alarm if the presence of water is detected.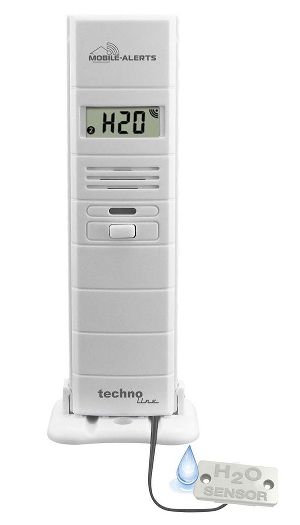 For example, the sensor could be located behind a washing machine which could detect a leak from a pipe if water reaches the cable sensor. The sensor is often screwed to a skirting board or fixed to a small block of wood so that the water detection sensor is located close to the ground (or at whatever level is required) The sensor is also often placed in remote locations (within 100 metres of the gateway) such as out building, workshops, cellars etc where rising water levels can be automatically monitored, and in the event of flooding, can automatically trigger an immediate alert being sent directly to your smart phone.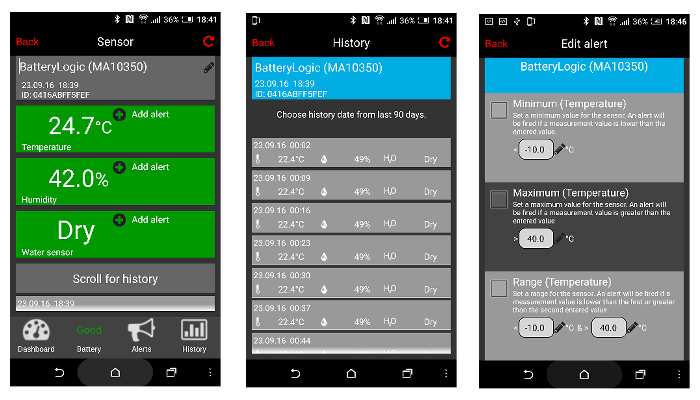 Specifications:
Measuring range temperature: – 39.9°C to + 59.9°C
Resolution: 0.1°C
Accuracy: +/- 1°C
Measuring range humidity: 20% to 99%
Accuracy: +/- 3%
Measuring interval: 7 minutes
Transmission range: 100m (open area)
Dimensions: 128 x 38 x 21mm
Batteries: 2 x AAA (not included)
Cable Length: 150cm
Minimum Software Requirements: iOS 7.0 / Android 3.2
There is also a small LCD screen on the sensor which displays both the temperature and the humidity. The screen display continuosly toggles between showing the temperature, the humidity and the water detection status.
The Mobile Alerts app is available for iOS and Android and can be downloaded from the Apple App Store and the Google Play Store, just search 'Mobile Alerts'. You can download the free app before you buy and you can view real sensor data from a wide range of live sensors so that you have a good look at the system to see what it's all about.

Mobile Alerts MA10350 Water Detection
If you have any questions about the Mobile Alerts MA10350 Water Detection please call on
020 8989 1087
020 8989 1087
(mon-fri 10am - 5pm) and we'll be very happy to help