Technoline WS-9470 Temperature Station
The Technoline WS-9470 indoor temperature station clearly displays both temperature and humidty levels . This popular battery operated display unit has a sleek modern design with a clean white surround and clear LCD screen which is very easy to read and gives a clear indication of current indoor temperature and humidity.

The temperature readings can be set to display in either Celsius or Fahrenheit and the unit will record the minimum and maximum levels reached for both temperature and humidity which can be displayed to show as either the all time levels recorded or per 24 hour period if you prefer. Trend arrows indicate whether the values for temperature and humidity are currently rising, steady or falling.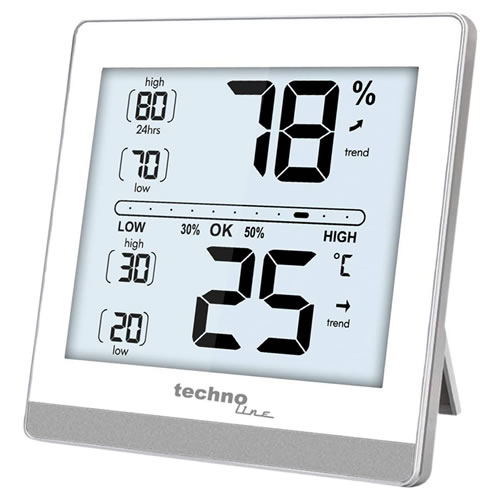 The display is powered by 2 x AAA batteries (batteries are not included) This smart indoor display (118 x 118 x 24mm) can be either wall mounted or table standing with the included base stand.
Temperature range:
Indoor : 0 °C (32 °F) to 50 °C (122 °F)
Centigrade or Fahrenheit temperature display
Indoor temperature and humidity display
MIN/MAX recording
Low battery indicator
Table standing with built in stand or wall mounting via rear hanging hole.
Main display unit dimensions: 118 x 118 x 24mm

Technoline WS-9470 Temperature Station
If you have any questions about the Technoline WS-9470 Temperature Station please call on
020 8989 1087
020 8989 1087
(mon-fri 10am - 5pm) and we'll be very happy to help