Technoline WS8007 LCD Clock
The Technoline WS8007 digital wall clock is one of our favourite clocks and also one of the quirkier clocks in our range. The clock has a nice clear display and unusually dark back colour with light contrasting numbers and letters on the display which are slightly BRONZE in appearance.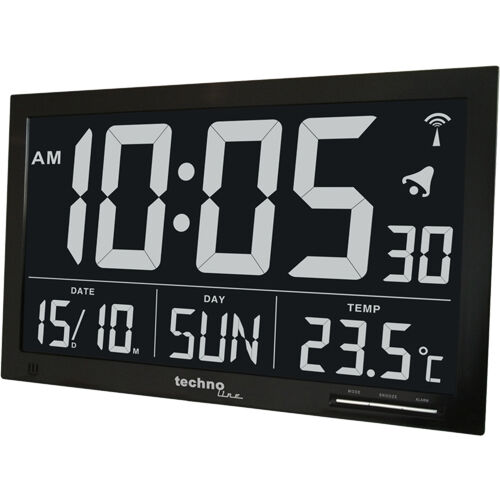 The screen of the Technoline WS8007 clock is black and the characters are slightly bronze (not white) so the displayed time does not have the same high contrast as it would with a regular black character on a light background, this however is intentional and discrete by design. The image below is a photograph of the clock on the wall in one our offices and gives a better idea of the slightly bronzed colouring of the digits on the display.
The Technoline WS8007 clock has quite a minimalist and discrete display and the contrast is NOT suitable for users who need absolute clarity or a backlight, this clock does NOT have a backlight and has an intentionally discrete reverse contrast and is therefore not suitable for some users with less than average eyesight. Having said the above, due to its unusal design characteristics this clock has consistently been one of our most popular models over the years and generally looks really good in a large modern room or office and offers good clarity for most.
The Technoline WS8007 clock is normally hung on a wall but also includes a fold out table stand at the back of the clock for extra versatility should you need it.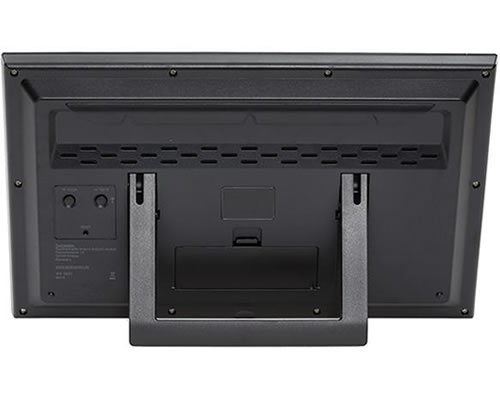 Radio controlled for consistently accurate UK time (The clock can optionally display any time zone)
12/24 hour display option
Date in UK format (dd:mm)
Indoor Temperature
Indoor Humidity
°C or °F selectable indoor temperature display
Dimensions : 37 x 23 x 3cm
Wall hanging or table standing
Powered by 4 x AA batteries (included)
BatteryLogic are UK Technoline specialists and the
WS8007 Digital Wall Clock
is supplied with a full 12 month warranty. All orders placed before 5pm (mon-fri) are dispatched on the same day with
FREE UK delivery
via Royal Mail Tracked 24.


If you have any questions about the
Technoline WS8007 LCD Clock
please call on
020 8989 1087
020 8989 1087
(mon-fri 10am - 5pm) and we'll be very happy to help