Mobile Alerts MA10870 AC Power Sensor
The Technoline Mobile Alerts MA-10870 is an AC power mains sensor designed to constantly monitor the presence of a mains electricity supply and to automatically send an alert in the event of a mains failure. This is particularly useful when used in conjunction with temperature sensors monitoring fridges and freezers for example.
Please note that this sensor will only work with the Technoline Mobile Alerts Power Backup Gateway MA-12022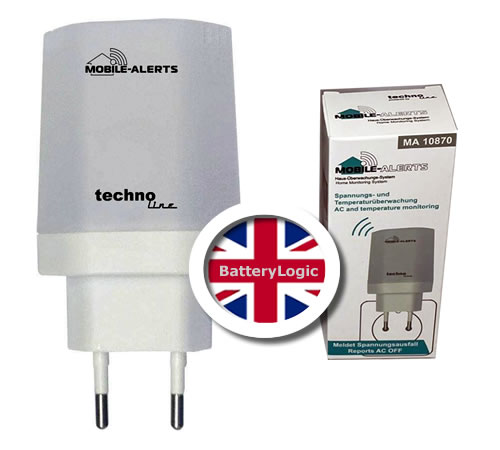 It must be noted that the MA-10870 is built around 2-pin power prongs as shown so will need to be used with a 2 pin to 3 pin plug adapter so that it can be physically connected to a UK 3 pin power socket. (Plug adapter included)
In the event of a power failure the MA-10870 will send a "No mains voltage" alert but will send ONE ALERT ONLY. The sensor can however be setup within the app by an unlimted number of users so that more than one person can receive the same alert for peace of mind. When the sensor detects that power has been restore it will end a "Mains voltage OK" message alert.
The MA-10870 AC Mains monitoring sensor also measures temperature with a range of -9.9℃ to +59.9℃ and a resolution of 0.1℃.

Mobile Alerts MA10870 AC Power Sensor
BatteryLogic are UK Technoline Mobile Alerts specialists and the Mobile Alerts MA10870 AC Power Sensor is supplied with a full 12 month warranty. All orders placed before 5pm (mon-fri) are dispatched on the same day with
FREE UK delivery
via Royal Mail Tracked 24.