Mobile Alerts MA10800 Contact
The Mobile-Alerts Door Contact sensor (MA-10800)
is one of the optional wireless sensors available for use with the
Mobile Alerts remote monitoring Gateway system (MA-10000)
** which is sold separately and required for this sensor to operate ** The contacts operate in the much the same way as a conventional contact sensor but the Mobile Alerts sensor connects wirelessly to the Mobile Alerts system which then makes it possible to record and monitor whenever the contact sensor is opened or closed and view the current status or history directly on your smart phone. Alerts can be set so that a notification is automatically 'pushed' to your smartphone (iOS and Android) whenever the door is opened for example.
The contact sensors can be quickly and easily attached to any door, window, draw or cupboard and will trigger an alert to your smart phone the moment they either open or close. The list of uses is endless and the more you think about it the more options for use you will think of.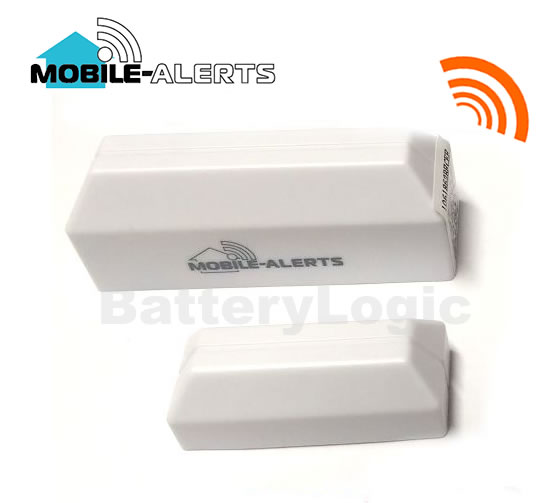 The Mobile Alerts smartphone app also keeps a record of the exact times the sensor has been opened or closed. Very useful as a discreet security device for remote monitoring and also very useful for remotely checking that all windows and doors are properly close. (you can downlaod the app from the Apple App store or the Android Play store, just search 'Mobile Alerts') The app and gateway can monitor upto 50 individual sensors so adding additional contact sensors is possible at any time, simply stick the sensors in place, scan the sensor with the app and the new sensors can be up and running in minutes..
The sensors are small and discrete and measure only 53 x 19 x 17mm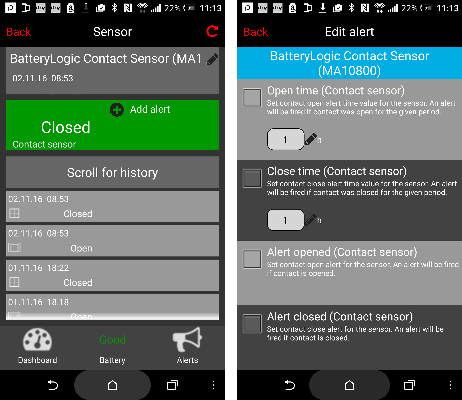 Included are the two parts of the contact sensor (the white parts in the product image), self adhesive velcro strips for fixing the sensor in place and two dark brown plastic covers which can be attached if the sensors are fixed to a dark frame. Powered by 2 x LR44 batteries (included)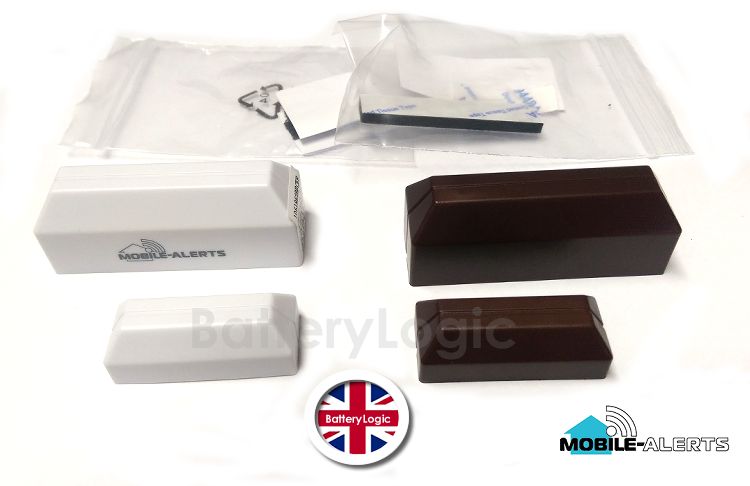 The contact sensors can be quickly and easily attached to any door, window, draw, cupboard, cabinet etc and will trigger an instant alert to your smart phone the moment it either opens or closes. There are many practical uses for these contactless sensors as well as serious security uses. Has a door or window been left open? Has a store room been opened? What time was the first person into the office? Has someone entered your office or opened a draw or filing cabinet? The list of possible uses is endless.. Has a door been left open? You can set alerts if a door has been opened but not closed after a certain amount of time which you can specify for individual alerts. Has an external door been left open?, has a store room not been closed?
All orders placed before 5pm mon-fri are dispatched on the same day.
If you have any questions about the
Mobile Alerts MA10800 Contact
please call on
020 8989 1087
020 8989 1087
(mon-fri 10am - 5pm) and we'll be very happy to help