Temperature and Humidity Displays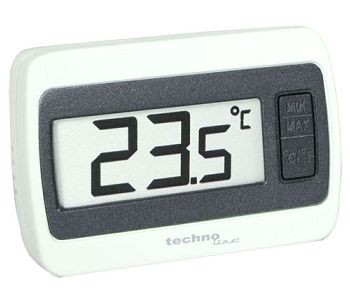 The
Technoline WS-7002
is a small and accurate, easy to read digital thermometer which is perfect for keeping any eye on indoor temperature. User selectable Centigrade or Fahrenheit (C/F). The thermometer will also record and display both a minimum and maximum temperature reading which can be reset at any time. There is a fold-out stand on the back to allow for free standing and there is also a hole on the back if you'd prefer to hang the display on the wall. This is a SMALL thermometer, the dimensions are 60 x 40 x 14mm. The Technoline WS-7002 is powered by 1 x LR44 coin type battery (included)
WS-7002 Indoor Digital Thermometer (with min-max)
---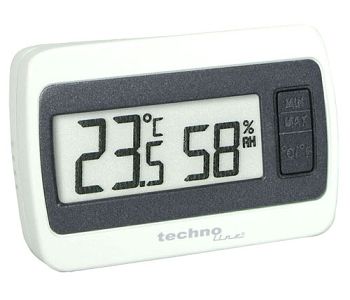 The
Technoline WS-7005
is a small and accurate, easy to read digital Thermometer and Hygrometer for monitoring indoor temperature
and
humidity. User selectable Centigrade or Fahrenheit (C/F) , relative humidity displayed as a percentage (%) The thermometer/hygrometer will also record and display both a minimum and maximum temperature and humidity reading which can be reset at any time. There is a fold-out stand on the back to allow for free standing and there is also a hole on the back if you'd prefer to hang the display on the wall. This is a SMALL unit, the dimensions are 60 x 40 x 14mm. The Technoline WS-7005 is powered by 1 x LR44 coin type battery (included)
WS-7005 Indoor Digital Thermometer and Hygrometer
---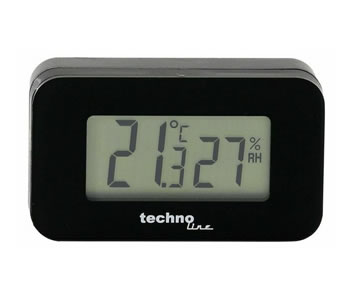 The
Technoline WS-7006 Mini
is a very small yet easy to read digital Thermometer and Hygrometer for monitoring indoor temperature
and
humidity. User selectable Centigrade or Fahrenheit (C/F) , relative humidity displayed as a percentage (%) The thermometer/hygrometer will also record and display both a minimum and maximum temperature and humidity reading which can be reset at any time. This is a
very
SMALL unit, the dimensions are 40 x 23 x 12mm. The Technoline WS-7006 is powered by 1 x LR54 coin type battery (included)
WS-7006 Mini Indoor Digital Thermometer and Hygrometer
---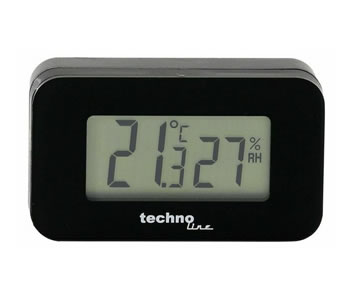 The
Technoline WS-7009
digital Thermometer and Hygrometer for monitoring indoor temperature
and
humidity. User selectable Centigrade or Fahrenheit (C/F) , relative humidity displayed as a percentage (%) The thermometer/hygrometer will also record and display both a minimum and maximum temperature and humidity reading which can be reset at any time. This is a
very
SMALL unit, the dimensions are 52 x 32 x 14mm. The Technoline WS-7009 is powered by 1 x CR2032 coin type battery (included)
WS-7009 Indoor Digital Thermometer and Hygrometer
---
Technoline WS-9450 Temperature Station Thermometer and Humidity An attractive indoor temperature display with high polish black and silver finish with modern LCD screen with block character numeral design. A very clear screen showing the temperature (in either Centigrade or Fahrenheit) and the relative humidity. Internal humidity can contribute to condensation and damp so it's always useful to keep an eye on levels and when to open a window or two.
Indoor temperature display
Indoor humidity display
MIN/MAX recording
Comfort display with feel-good indicator
Wall mounting or table standing
Dimensions : 100 x 81 x 10mm
Powered by 1 x CR2025 (included)
WS-9450 Indoor Digital Thermometer and Hygrometer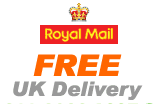 All orders placed before 5pm (mon-fri) are dispatched on the same day via First Class post.
If you have any questions about the
Temperature and Humidity Displays
please call on
020 8989 1087
020 8989 1087
(mon-fri 10am - 5pm) and we'll be very happy to help