Technoline WL-1025 CO2 Monitor
The Technoline WL-1025 is a high quality portable CO2 air quality monitor which accurately measures levels of carbon dioxide in the surrounding air and is perfectly suited for use in schools, gyms, public buildings, sports halls etc, just about anywhere that you would like to keep an eye on air quality and ventilation.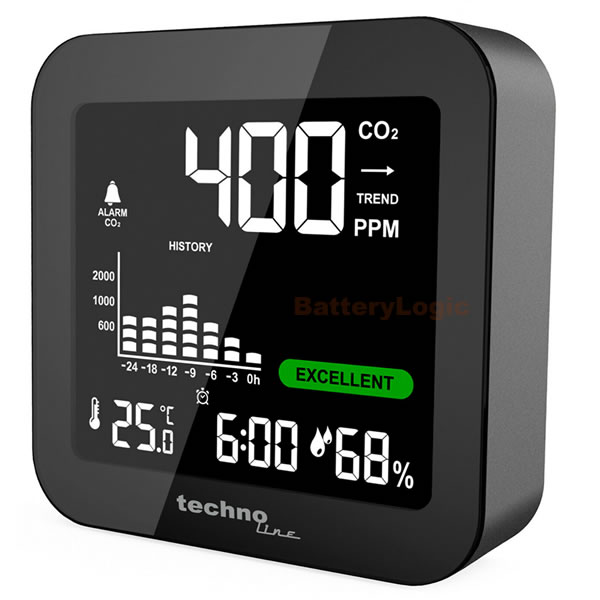 The WL-1025 CO2 monitor utilises a top quality non-dispersive infrared (NDIR) gas sensor and has a nice clear screen that displays CO2 measured in PPM (parts per million) up to 5000 PPM and also shows a clear and intuitive traffic light system for a clear overivew of current ventilation levels.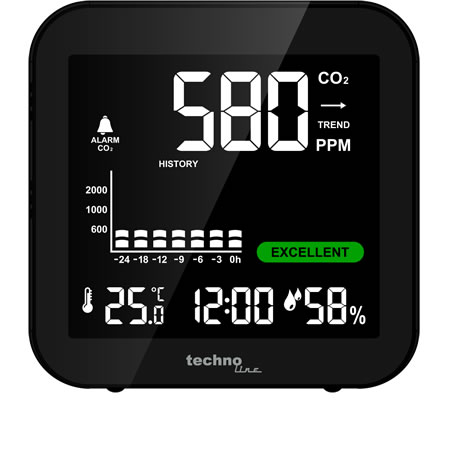 The unit is powered by its built in lithium battery and charged via the included USB cable. Once charged the monitor becomes fully portable and can operate on power from the built-in battery for up to five hours continuous operation. Quickly and easily recharges. This unit can also be continuously powered in a permanent location from any USB charge socket via the included charging lead. The WL-1025 CO2 moniter is small and light and easily fits in a pocket or handbag and is currently very popular with school teachers for example moving from classroom to classroom.
Display of measured CO2 value and CO2 trend indicator
24 hour history of measured CO2 values displayed on bar diagram
Automatic and manual baseline calibration for CO2 concentration
Visual alarm function for high CO2 values
Current CO2 concentration in the air is displayed as air quality icons in a simple to understand coloured traffic lights system from green to red with the following stages : EXCELLENT, GOOD, MEDIUM, POOR and VERY POOR (the monitor starts flashing at 2001 ppm to signal very poor air quality levels)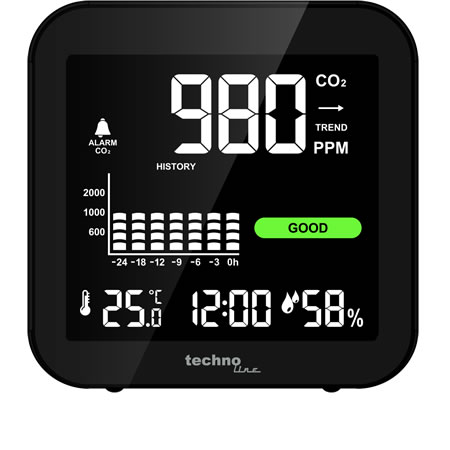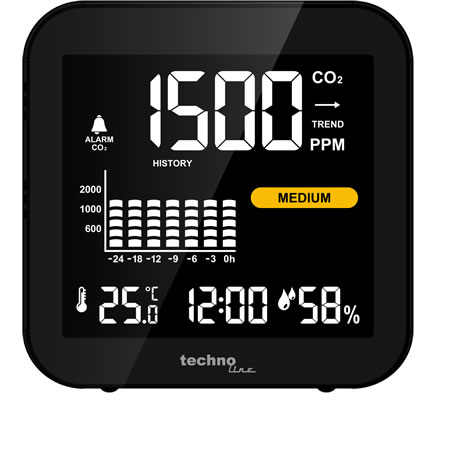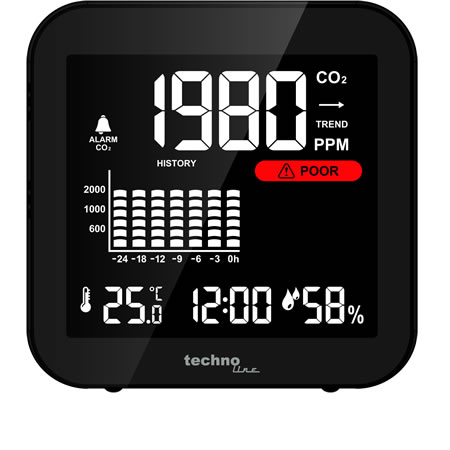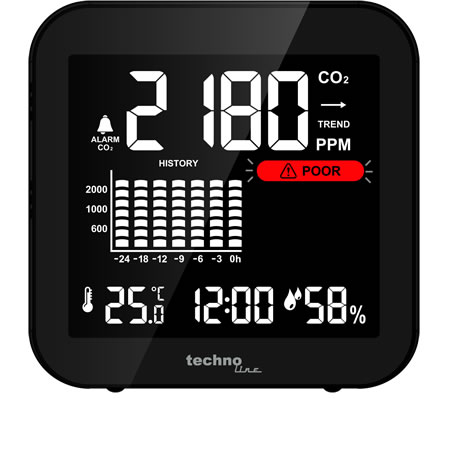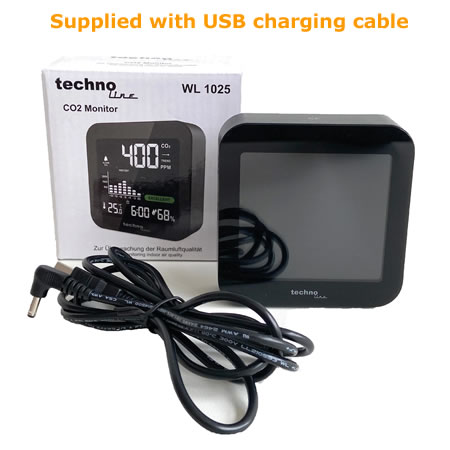 Additional functions include:
Indoor temperature display in °C or °F
Indoor humidity display
MIN/MAX memory of CO2, temperature and humidity
Quartz clock
12/24h time display
Alarm
Low power indicator of built-in rechargeable battery
4 display brightness levels selectable
Table standing
SPECIFICATIONS
Dimensions (W xH x D): 81 x 81 x 24 mm
Power requirements: USB cable (included)
Internal rechargeable battery (built in)
Temperature range: -9.9 - 50°C
Humidity range: 1-99%

Technoline WL-1025 CO2 Monitor