Fingertip Pulse Oximeter
This popular fingertip pulse oximeter is designed to clearly display instant measurements of blood oxygen saturation levels (SpO2) and pulse rate which are good to keep an eye on during the ongoing Covid pandemic. This pocket monitor is ever so easy to use due to its clear display and is very handy to store due to its small size.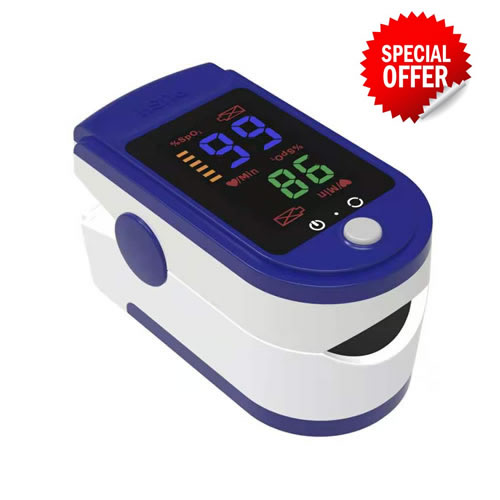 Portable
Lightweight
Convenient
Hemeglobin saturation range : 35-100%
Pulse range : 30- 250 BPM
Screen orientation: 2 directions adjustable
Powered by 2 x AAA batteries (not included)
ACCURATE AND RELIABLE - Accurately determine your SpO2 (blood oxygen saturation levels) and pulse rate in 10 seconds and display it conveniently on a large digital LED display.
SPORT/HEALTH ENTHUSIASTS - Also popular with sports enthusiasts including walkers and cyclists or anyone interested in measuring their SpO2 and pulse rate.
EASY TO USE - Taking a reading is easy, just clip it on to your finger and turn it on at the press of a button.
ACCOMODATES WIDE RANGE OF FINGER SIZES - Finger chamber with SMART Spring System. Suitable for ages 12 and above.
** Please note - not suitable for use with coloured nail polish
How to use (full instructions are included)
1. Place finger into the rubber cushions of the clip (make sure the finger is nail side up), and then clip the finger.
2. Press the button once on the front front panel and the LCD screen will power up.
3. Do not shake the finger when measurments are being calculated.
4. Within 8 seconds the information is clearly displayed on the screen.
FREE UK delivery

via Royal Mail First Class post

. All orders placed before 5pm mon-fri are dispatched on the same day.
Fingertip Pulse Oximeter