Ansmann Energy Check LCD Battery Tester
** Temporarily Out of Stock **
An easy to use professional standard battery tester for testing a very wide range of popular battery types. The Ansmann Energy Check LCD (4000392) is an intelligent battery tester and is suitable for testing both rechargeable and non- rechargeable batteries including lithium button cells, lithium photo batteries, alkaline button cells, zinc air button cells, alkaline batteries, NiCd and NiMH cells..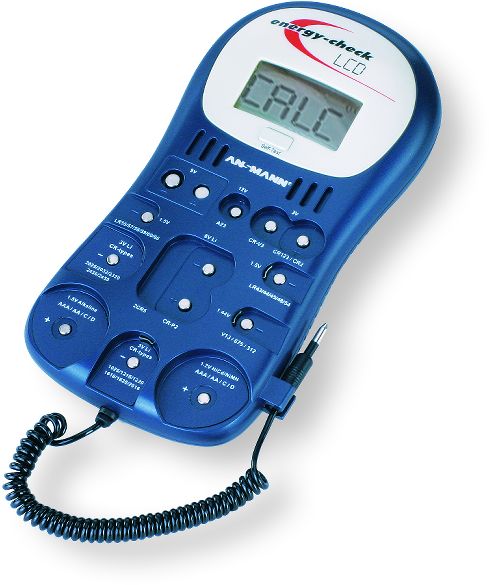 Extremely convenient operation with innovative battery detection mechanisms and intelligent testing allocation and auto-adjustment of testing parameters. This well built Ansmann battery tester is very easy to use and makes a versatile addition to any battery armoury.
You can test the following batteries with the Ansmann Energy Check LCD:
NiMH and NiCd rechargeable:

AAA
AA
C
D
PP3

Alkaline batteries:

A23 (12V)
AAA
AA
C
D
PP3 ( 8.4V - 9V)

Zinc Air Button cells:

V675
V13
V312

Lithium Button cells 3V:

CR1025
CR1216
CR1220
CR1616
CR1620
CR2016
CR2025
CR2032
CR2430
CR2450

Lithium Photo batteries:

CR2
CR123A
CRP-2/2CR5

Alkaline button cells:

LR43, LR44, LR45, LR48, LR54, LR55, LR59, LR58, LR60, LR66

The Ansmann LCD battery tester accurately displays the available capacity of the connected battery which is shown in 10% steps on the LCD screen. It will then show the real voltage level of the battery accurate to 2 decimal places. Ansmann have incorporated the latest in CAM-technology (Computer Aided Measurement) to produce a fast and accurate battery tester which produces a measurement reading within 3 seconds of connecting the battery.
All orders placed before 5pm (mon-fri) are dispatched on the same day with
FREE UK delivery
via Royal Mail First Class post.
** Temporarily Out of Stock **
Ansmann Energy Check LCD Battery Tester
If you have any questions about the Ansmann Energy Check LCD please call on 020 8989 1087 (mon-fri 10am - 5pm) and we'll be very happy to help