Technoline WL1030 CO2 Monitor
The Technoline WL 1030 CO2 Air Quality Monitor is an award winning CO2 measuring device which monitors the carbon dioxide levels in the surrounding air and is particularly useful when used in indoor locations especially as good ventilation in enclosed spaces has been highlighted as an essential consideration during the current fight against Covid-19.
High CO2 levels in the air also reduce the ability to concentrate and perform well. To improve the indoor climate and to maintain health, regular and timely ventilation is recommended and this CO2 air quality monitor is just perfect for keeping and eye on the freshness of air.
The WL1030 offers accurate measured values and the basis for these accurate values is a powerful NDIR (Non-Dispersive Infared) gas sensor with CO2 measurement and the additional calibration function. The Technoline WL1030 is equally suitable for private, commercial and public premises and supports a healthy indoor climate and the preservation of health with ventilation recommendations at the right time.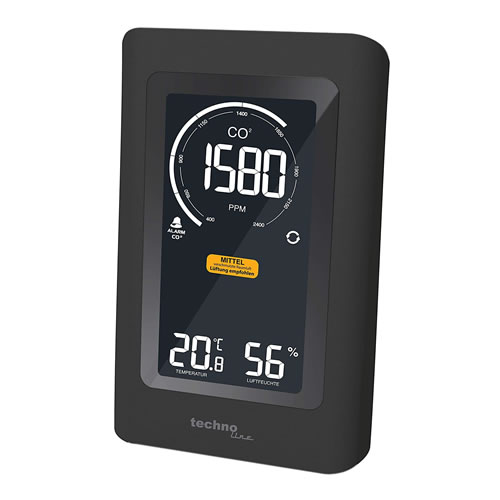 The CO2 content in the indoor air is indicated by precise ppm values (particles per million) and supplemented by ventilation recommendations with colored information fields in the traffic light system.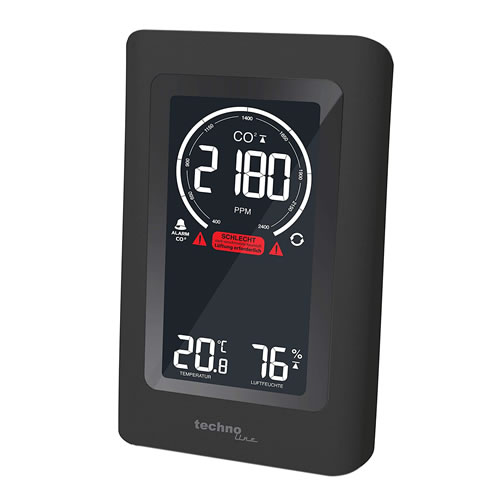 ** Please note that this is a German language screen version.**
Due to the extremeley high demand for this device during the current Covid-19 situation, the current unavailabilty of the English version and the increased awareness of the significance of air quality and good ventilation we have decided to continue to offer this top quality award winning German version from Technoline rather than stock low quality no-name models. We think that beacuse the key information is clearly displayed in the universal language of numbers and the Green, Amber and Red traffic light colour indicators are also universally understood, we feel that this superb unit clearly displays the relevant information and remains an excellent proposition for use within the UK and continues to be a great aid to anyone re-opening business and leisure premises as we prepare and continue to re-open after Covid lockdowns..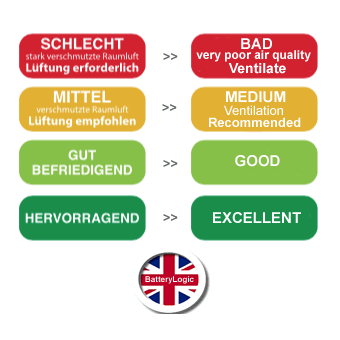 CO2 monitor for indoor air quality
Non-dispersive infared (NDIR) gas sensor
Measuring range up to 5000 PPM
Green, Amber and Red Ventilation recommendations
Automatic baseline calibration of CO2
Indoor temperature display (°C or °F)
Indoor humidity display
Min/Max/Average value memory of last 24 hours
Adjustable CO2 value alert with optional alarm sound
Adjustable alert for high or low humidity
Built-in memory chip to save settings
Backlight with adjustable brightness levels
Table standing
Mains powered (UK travel plug included)
BatteryLogic are UK Technoline specialists and the Technoline WL1030 CO2 Monitor is supplied with a full 12 month warranty.

Technoline WL1030 CO2 Monitor
If you have any questions about the Technoline WL1030 CO2 Monitor please call on
020 8989 1087
020 8989 1087
(mon-fri 10am - 5pm) and we'll be very happy to help